Newsletter
celebrations
YOUR IDENTITY
As you left church on Sunday, May 7 we hope you noticed the chalk art created by kids at both campuses. This was a fun way for the kids to share what they had learned during Centerpoint Kids!
Centerpoint Kids at the Hawarden campus, pictured below, focused on verses that remind them that they are loved because they are made by God and ultimately, we reflect God because we are made in His image!
Check out the verses they studied and be reminded of your identity in Christ!
Genesis 1:27
John 3:16
Jeremiah 1:5
PROFESSION OF FAITH AND NEW MEMBER
In April, we celebrated Emyrson Heie's profession of faith!
We also welcomed Obed Miranda as a member of Centerpoint Church! (not pictured)
Ministry Year Celebration Meal
What a blessing it was to come together at both campuses on Sunday, May 7 to celebrate the ministry year we have had at Centerpoint Church! We are truly thankful for the opportunities all generations have had to grow together through discipleship and service. Thank you to all who planned, served, cooked, and enjoyed the time together!
| | | | |
| --- | --- | --- | --- |
| | | | |
Get Involved
Board Updates
The board is planning the Annual Meeting for Centerpoint Church, scheduled for Sunday, June 4. It will be a Centerpoint Connect event, with both campuses worshiping together in Sioux Center at 9:30 am. The Annual meeting will begin at 10:45 and will include a time of worship, an opportunity to affirm the nominees to the board, a celebration of all God has done at Centerpoint in the past year, and a time of looking forward to learn how we can all be involved in God's Kingdom work by financially supporting the proposed budget. All members and regular attenders are invited to the meeting and are encouraged to become a part of what God is doing at Centerpoint.
The Board is committed to being life-long learners. We finished our initial study of Policy Governance, but will continue to address ways for the board to govern well within this structure. The board also discussed other topics to study in the coming year that would lead Centerpoint into the future.
The board discussed End 4: Multiplication - Centerpoint Church is a multi-site ministry with people at each site who are spiritually healthy and demonstrate knowledge of existing for a purpose beyond themselves. Jamie informed the board of the work being done through the Network to set a foundation for every church to multiply believers, disciples, leaders, and churches as we work together. It is exciting to imagine how God's Kingdom could multiply by churches working together to make Christ known.
The board approved the nominations of Brad Den Herder and Mark Sneller to replace the outgoing board members, Catherine Bloom and Leanne Mouw. An orientation session is being planned to prepare both of these men to join the board in July and to be able to lead well. Covenant Partners will also be able to affirm this decision at the Annual meeting by marking and signing a paper ballot. If someone cannot attend the meeting on June 4, an absentee ballot will be available in the church office.
Pastor Jamie presented his interpretations of the Executive Limits in the Policy Manual that deal with the treatment of the congregation and the staff. From May to September, he will be interpreting each of the Executive Limits in our Policy Manual. This is done so the board is clear in their expectations of Jamie and allows him to be creative in achieving the Ends within boundaries that limit unethical, unlawful, or unbiblical practices.
Thank you to everyone who helped with the Celebration meal…those who cooked the meat, made the desserts, helped set up and/or clean up after the meal. It was a wonderful time of good food and great fellowship. God has been faithful to Centerpoint this year.
Financial Update
We are currently 20% behind in giving.
Staff Update from Ray
My current work visa (R1, religious worker) was approved January 2021 and will expire July 12, 2023. This will be the third time during my time at Centerpoint Church that I will go through a work-visa waiting period. Megan and I recently applied for a marriage green card, and our case was received by the USCIS as of April 28. The approval of the green card could take a year or more, but before the green card is approved, I'm able to receive a work permit. The timeline for the work permit could be as long as 15 months or as short as four months.
Due to the fact I will be ineligible for employment in the United States of America effective July 12, Centerpoint Church will be opening the Director of Worship position while I am waiting on my work permit and green card. The best-case scenario is that the work permit is approved in four months, and I return to work at Centerpoint at the end of August. The worst-case scenario is that the work permit takes around one year to receive and Centerpoint will be without steady worship leadership for that year.
I am grateful for the time and energy the worship and production teams give the church, and we want to honor, trust, and empower them with thorough processes and thoughtful plans for the future. My last Sunday will be July 9, and while I'm gone this summer, Jacob Brown, Tony Keahi, Nicole Mahoney, Bryce Enger, and Kris & Becky Isakson will be providing worship leadership at both Hawarden and Sioux Center campuses. I am working with Pastor Chris, our worship leaders, and members of the various production teams to create plans for the summer and into the uncertain future my visa situation presents.
I hope that July isn't the final end of my time serving Centerpoint, and I hope to be able to return come fall. However, I understand Centerpoint's need to ensure worship leadership in the event my application takes longer than we hope. I ask for your prayers over my visa situation, and I'll seek to finish strong this summer. Megan and I will still be living in Sioux Center, so don't be a stranger!
If you have any questions about this situation, you may reach out to me or to Pastor Chris and we would be happy to discuss the situation with you.
Community
A Closer Look at: Leading a Life Group
Brad and Stacia Van Berkel felt called to lead a Life Group for many years, but they were intimidated by the thought of it. Weren't they too busy to do the prep work? Were they mature enough in their faith? Did they need to be biblical scholars? They decided to go for it this fall and started a group! Read on to learn what it has been like for Brad and Stacia to lead a Life Group.
The reality we discovered is that Life Groups are meant to be life giving. We have some important shared values at Centerpoint Church that we get to live into when we share life together. Each time we gather we are Prioritizing Healthy Culture and Valuing Generations.

We have learned that leading a life group is about providing a space for relationships to grow and develop beyond Sunday morning. It's about connections, being there for each other in the ups and downs, sharing life, building trusting relationships, and being hospitable with each other. In that spirit, when we meet, our Life Group shares a meal together, includes our kids, talks about what God is doing in our lives, and we grow in relationship together – connected to each other through our shared faith.

Jesus models this for us in the Bible. When Jesus appoints the 12 in Mark 3:13, we find that he appointed twelve apostles that "they might be with Him." Throughout the Bible we see that Jesus also calls them (and us) to much more, but at the foundation of His ministry is a group of 13, sharing life together.
Brad and Stacia's Life Group meets once a month for a couple hours on a Sunday evening. Another group meets every other week at the church and others rotate hosts and meeting locations on a monthly basis. All of this is to say, your Life Group can be structured in a way that works for you and those that attend! If you are interested in starting a group or being part of a group, please reach out to Pastor Chris.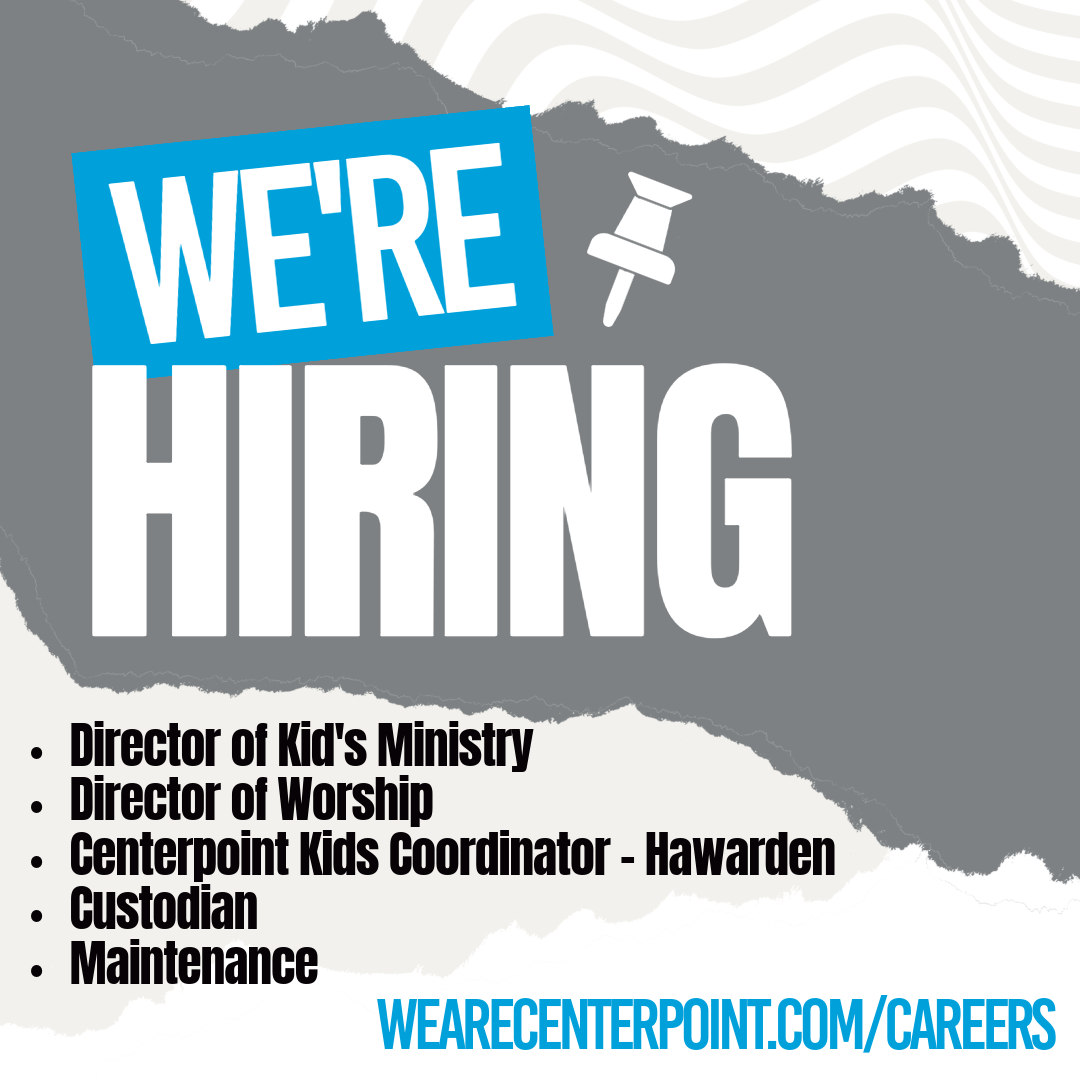 We are looking for a few great people to join the Centerpoint Church team!


Open Positions:
Facility Manager
Director of Student Ministries
Director of Worship
Kidzone Assistant
Starting Late Summer 2023

For full job descriptions and to apply, click below!
Summer Playdates are open for Registration!
Would you like to get to know more families at Centerpoint Church? If so, we'd love to invite you to our Centerpoint Church Playdates in the indoor playground located at our Sioux Center campus!
Register for the dates that work for you, and come with your kids to connect with Centerpoint families from both campuses and have some fun! All ages are welcome. Adults must be present with kids, no drop offs please.

Register Here!
Looking Ahead

Connect Worship Service & Annual Meeting
Join us Sunday, June 4 at the Sioux Center campus for a Connect Worship Service with the annual meeting to follow at 10:45 am! We look forward to seeing all members and regular attenders there to worship, to celebrate what has been going on in the last year, and to affirm the nominees for the Board of Elders.
Childcare for kids from birth through kindergarten will be available during the Annual Meeting.
Upcoming S.A.L.T Event
All of our senior friends are invited to celebrate Flag Day with a Patriots Picnic on June 14 from 10:30 am to 1:45 pm in Room 99 at the Sioux Center campus. Our musical guests will be the community choral singing group led by Dave Netz. We will enjoy a picnic meal together for lunch and then welcome our former state senator, Dave Mulder, as our guest speaker. This invitation comes with a special word of welcome to our younger retirees. The S.A.L.T. ministry is for youthful seniors, too! We would love to have YOU join us. Please RSVP by Monday, June 5 by calling the central services office at 712.722.1861 or emailing [email protected].
Urban Plunge
Middle School Centerpoint Students will be attending Urban Plunge in Omaha June 16 to 18 and June 23 to 25. Watch for an opportunity to pray for the kids and leaders as they participate in this service trip!